---
Click on a book's image or title to order from Amazon.com
---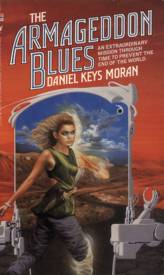 The Armageddon Blues
Bantam/Spectra, PB, © 1988, 205 pp, ISBN #0-553-27115-6
Reviewed January 2004

I've heard about Moran's books for years - so long that it's hard to believe this, his first novel, was published when I was in college, or that he's only about six years older than me. I finally tracked down original copies of each of his novels, and started here, at the beginning.

Jalian d'Arsenette lives 800 years in the future - well after the nuclear war of 2007. Her people are a matriarchy, resistant to radiation, and are skilled hunters and fighters. Then they encounter some aliens from both space and a parallel reality and have their eyes opened - a little bit. Jalian learns of the nuclear war, and uses the aliens' technology to return to 1960s Earth to try to stop it.

There and then she meets Georges Mordreaux, who has been alive since the 18th century and who has a peculiar talent which opposes entropy. In his presence, people can become healed and even grow younger. He and Jalian become friends and allies in the effort to prevent armageddon, a task in which they enlist scientists and government officials, and create a clandestine branch of the US government to carry out their plan, aided in no small part by Jalian's deadly skills with weaponry.

The Armageddon Blues is fast-paced and humorous, but not terribly deep. It uses a number of fairly straightforward SF elements - time travel, alternate realities, artificial intelligence, superior combat abilities, and longevity - without really illuminating any of them. It's simply a rousing adventure. Its most distinguishing feature is Moran's tendency to poke fun at the characters and events through the narration, and to jump around to widely variable scenes in the space of just a few pages to give a feeling of a gestalt story made of many tiny pieces. It's an interesting change of pace, but again, not in itself that fascinating.

At its best, Armageddon feels a bit wistful, and exciting in the face of what seems like hopeless odds. But ultimately the story is just too slight to raise it above the level of a fun adventure story.
---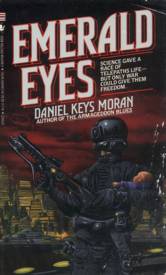 Emerald Eyes
Bantam/Spectra, PB, © 1988, 243 pp, ISBN #0-553-27347-7
Reviewed February 2004

Emerald Eyes is the first of Moran's novels about "Continuing Time", apparently planned as an extended arc of over 30 novels spanning thousands of years. (To date only three have been published, with rumors of a fourth possibly having been made available via a print-on-demand source.)

Emerald Eyes begins in 2029. The United Nations have established hegemony over Earth, after a protracted war with the United States, and France dominates the UN. Cutting-edge research at this time develops two kinds of enhanced humans: The de Nostri, who are human-animal hybrids, and Suzanne Montignet's "superhumans", beginning with Carl Castanaveras. Montignet's creations, it turns out, are telepaths.

30 years later, both programs have long since been halted, and the telepaths have finally managed to win their freedom from servitude to the UN Peaceforcer arm. Most of the telepaths are still children, in the custody of Carl, his gene-sister Jany McConnell, and a few others. The telepaths start to shop their services to corporate bidders, but have to face the pressure of bigotry from the populace, as well as the UN's efforts to force them back into servitude. And UN councilor Jerril Carson's hatred of Carl and the telepaths ever since a brutal encounter between the two when Carl was a teenager.

Moran's writing style is one of short, clipped scenes, and jumping from one to another to point a picture of something larger than the concerns of a few protagonists. This makes for a book which feels fast-paced, although there also feels like there's a lot of extra material which doesn't bear directly either on this novel's story, or on the larger story of Continuing Time. (All the backstory concerning the telepaths' guardian, Malko Kalharri, for instance, feels neither necessary nor compelling.)

The novel's story itself is fairly slight: A darker side to Alfred Bester's The Demolished Man, yes, but this sort of oppression of a small-but-powerful group is not new, nor does it feel novel here (and even less so in the wake of the TV series Babylon 5). Carl is the nominal protagonist, but the story overall feels like a set-up for some of the minor characters, who apparently go on to bigger and better adventures in future books. Moran's third-person style of writing keeps the reader at arm's length from what the characters are thinking, giving the story a clinical, detached feel.

In sum, while Emerald Eyes was lively, it felt neither original nor deep to me. (In truth, I mainly read it because the next Continuing Time novel, The Long Run, has come highly recommended.) Whatever you're looking for - telepaths, genetic engineering, struggles against bigotry, near-future world politics - you can probably find it done better elsewhere.
---
hits since 25 January 2004.