---
Click on a book's image or title to order from Amazon.com
---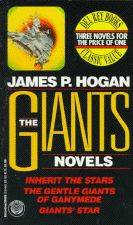 Inherit The Stars
Ballantine/Del Rey, PB, © 1977, 216 pp, ISBN #0-345-33463-9
Reviewed December 1997

If you enjoy science fiction "mysteries" and can handle a book which is conspicuously short on characterization, then you might enjoy this one. The premise is simple: On the year 2028, humanity has colonized the Moon and has sent manned missions as far out as Jupiter, with Saturn not far off. In a cave in the side of a cliff on the Moon's Nearside is made an incredible discovery: A human body, inside a bright red spacesuit. The body is dated as having lived 50,000 years ago, before humanity was known to have existed, and the spacesuit contains technology more advanced than anything on Earth.

The basic questions behind the book, then, are: Where did "Charlie" come from, what was he doing on the Moon so long ago, and what does his existence say about what we know about our own species?

The book proceeds from several basic premises: First, that Charlie has to be related to us, because evolution's random nature doesn't allow for the possibility of parallel evolution. Second, it seems clear his civilization did not exist on Earth, because not one shred of it has ever been discovered. Using these invariants, and other discoveries made during the course of the novel, the main characters piece together the story of Charlie's history.

The joy of a book like this is seeing what the author has in mind, and seeing if you can make the one or two crucial leaps of logic before the heroes do. It's not a book of characters or conflict, but a book of mystery and discovery. To his credit, Hogan gets the story told in just over 200 pages, as it might get tedious had it been extended much farther. But as a quick, intriguing read, Inherit The Stars remains a favorite of mine.
---
hits since 13 August 2000.