---
Click on a book's image or title to order from Amazon.com
---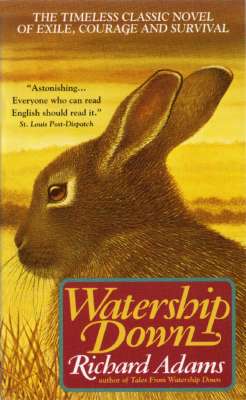 Watership Down
Avon, PB, © 1972, 481 pp, ISBN #0-380-00293-0
Reviewed February 2005

"It's The Lord of the Rings - with bunny rabbits!"

While I was being flippant when I made that joke about Watership Down, it's not that far from the mark. No, Watership down doesn't have orcs or wizards or a magical ring, but it does have rustic characters rooted in concerns about the earth and environment, a heroic journey and return home, and a variety of strange beasts and unexpected forms of help encountered along the way. (I don't think my alternate joke - that this could be thought of as Warren Peace - is accurate, but then I've never read War and Peace.)

Watership Down is in fact about rabbits - a group of rabbits in England who depart their warren because one of them - Fiver, a small and marginalized rabbit - senses that something terrible is about to happen. We the readers learn that their warren is about to be destroyed in order to build a new housing project. Fiver has a sense for things about to go horribly wrong, but few believe him. His best friend, Hazel, does, and after their case is made to the Chief Rabbit and rejected, they resolve to go on their own. In fact a small group of rabbits is willing to go with them, including Bigwig - ousted from the Chief Rabbit's circle, the Owsla, for not screening Hazel and Fiver out as a couple of kooks - and Blackberry - a clever rabbit who's able to figure out some higher concepts - like how to float across water on a boat - which other rabbits can't grasp.

The book is told in four parts. First, we're introduced to rabbit life in a typical warren, and follow our heroes as they flee across the countryside. Along the way they cope with their fears of being away from home, avoid predators, and encounter a very strange warren with some very strange rabbits. In Part Two our heroes arrive on Watership Down and begin to establish their own warren. They realize that they're all male rabbits and realize that they need some does in order for their warren to prosper. With the aid of an errant sea gull, they locate a nearby warren, Efrafa (emphasis as with "Africa"), and send a party there to see whether any does can be spared. Meanwhile, Hazel risks his life to save a quartet of hutch rabbits from a nearby farm.

In Part Three, we learn that Efrafa is in fact a tightly regimented society kept in line by a powerful Owsla. Bigwig infiltrates Efrafa to try to liberate some does who don't want to stay, and we learn about General Woundwort, who runs things. Finally, Part Four sees the two warrens face off in final conflict as Woundwort wants to make sure he remains in control of the land about Efrafa.

The characters in Watership Down are charming and engaging, although not terribly deep. Then again, they are rabbits. Though Hazel is the nominal protagonist - as the group's leader - it's Bigwig who ends up being the most interesting character. He and Hazel are naturally somewhat at odds at the beginning as he's the tough guy from the Owsla while Hazel is the natural leader. But the two come to a solid understanding and Bigwig takes it on himself to do the tough work for the good of the warren, even though in doing so he experiences things in Efrafa that no other rabbit from his warren can really imagine, and he stands up to the powerful Woundwort on his own. Though every rabbit chips in, he's the one who comes out looking like the true hero.

Watership Down has been heralded as an environmental epic, but this seems a gross overstatement to me. After all, how could one write a novel about rabbits living in a man's world without it seeming environmentalist at times. Rabbits don't share human concerns and humans trample over their property, so their point of view is sure to come off as environmentalist. Not that there aren't lessons to be learned here, but that's not the point of the novel, as I read it.

The book is perhaps too intense for very young children - it's fairly violent, although not much more so than a typical Star Wars film - but should be readable by older children and adults alike. If you think about it, the book doesn't quite pull off the high-wire act of making the animals sophisticated enough to work the plot without seeming so clever that they're not really quite animals anymore. The rabbits are at time too clever by half - one almost expects them to start making weapons at times. But it almost works - close enough to still be a fun read.

It's not for everyone - we read Watership Down for my book discussion group, and a few folks couldn't finish it (the bunny rabbits were a sticking point for some, I think) - but it's a fun adventure and certainly recommended if you enjoy fantastic adventures in the grand tradition.
---
hits since 20 February 2005.