---
Click on a book's image or title to order from Amazon.com
---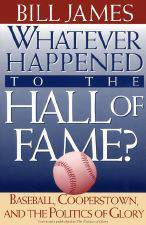 Whatever Happened to the Hall of Fame?
by Bill James
Fireside/Simon & Schuster, TPB, © 1994, 434 pp, ISBN #0-684-80088-8
Reviewed February 1997

Bill James, of course, is famous in the baseball community as being one of the first great sabermetricians. In this book, he turns his statistical powers to examining Baseball's Hall of Fame: How players are selected, what criteria are used and what criteria should be used, which players are in the Hall, who should be added, and who shouldn't have been put there in the first place.

One service Whatever Happened performs for hitherto-ignorant fans such as myself is to provide information about what the Hall of Fame is, what it was established to do, how it works, and a chronological examination of its history. This alone would be the worth the price of admission: We learn that the Hall is owned by a private trust, but that its contents belong to the State of New York. We learn that the Hall of Fame was originally created as a museum that eventually evolved into Baseball's greatest shrine. We learn that it contains perhaps the most extensive baseball library in existence, and that aspect of it has perhaps been more valuable to fans of baseball history than any other aspect of it.

And, we learn that the standards for electing people to the Hall have fluctuated wildly since its founding in the 1930s, sometimes working well (as the 1970s commission to elect Negro League players did), and other times very badly (as the 40s and 50s saw many players elected because someone who was "in power" at the Hall decided to put them there).

And of course, James provides extensive statistical analysis of the players in and out of the Hall in an effort to determine what a Hall of Famer is. The tools he employs to this end are often very cool, particularly his "Similarity Scores" analysis, which attempts, given a player, to find the ten players who are most similar to that player. Although James cautions against using the "If Player A is in the Hall then Player B should be, too" argument, it's still a damn cool perspective.

James' major stumble, in my judgment, is his excessive focus on Pitchers' Wins as a criterion for admission to the Hall. I've been convinced for several years now that the Pitchers' Win stat is essentially irrelevant, measuring nothing important - either in a single season or a career - that isn't better measured by stats like ERA and run support. It's a nice fantasy league stat, but not very helpful in determining a pitcher's true ability.

James spends much of the book examining the careers of two players whose admission to the Hall has been controversial: Dodgers pitching great Don Drysdale, and Yankees shortstop Phil Rizzuto. His analysis of Rizzuto is compelling: The Scooter almost certainly does not belong in the Hall of Fame. His analysis of Drysdale is less conclusive, to my mind; Drysdale seems to be so close to what James considers the cusp of Hall greatness, that I don't think we can fault his election. (James examines Drysdale's career in such great detail that I think he loses sight of the forest because of the trees.)

And, James presents several approaches to evaluating recently-retired and active players, which may be helpful in determining whether they are deserving candidates for the Hall. This is another of the most-fun sections of the book.

In summary, although it contains a few of what I consider flaws, I highly enjoyed Whatever Happened to the Hall of Fame? and would unreservedly recommend it to fans of the game.
---
hits since 13 August 2000.