New Closet Shelving
Guess what we installed today?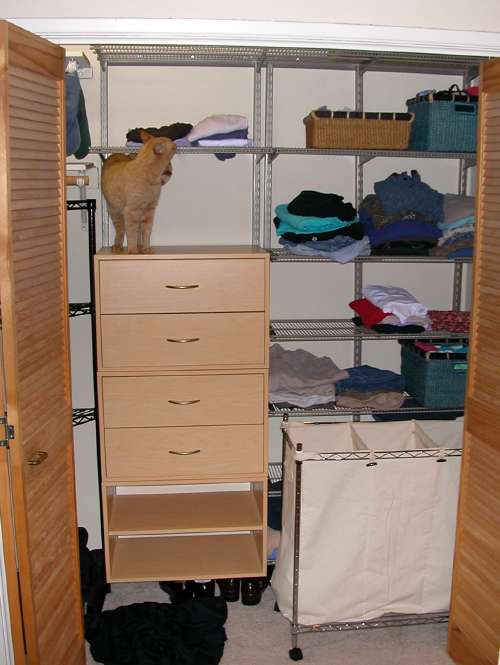 As I mentioned previously, we bought the shelving from Storables. The two two-drawer units and the two-shelf unit below them cost about half what we spent, and everything else cost the other half. We chose Storables over similar shelves from OSH and The Container Store mainly because we liked their selection of colors and it just looked sturdier. (A friend tells me that you can get a nice selection from OSH, but you need to go to multiple stores.) Storables' service also cuts the shelves down to an appropriate size.
I spent a good bit of the week taking out my old shelves (installed by the previous owner), removing part of the support board from the wall which had held the shelves before those, spackling, and painting. We bought paint from a Kelly-Moore outlet in town, which did a good job matching the color but whose service was, uh, not so good. Next time we'll try the Sherwin-Williams store for comparison.
Anyway, by Friday night I was all prepped to install the shelves. Our friends Lisa and Michel came by on Saturday after we picked up the shelves and Michel and I installed them. It was really quite easy. I'm most impressed that the support rod attaches to the drywall, not to the wall studs, but apparently it's quite sturdy nonetheless. It took us about an hour to install the rod and set up all the shelves. (The wood parts came pre-assembled.)
(By the way, the baskets in the photo also came from Storables, while the laundry sorter came from Lowe's.)
So we're one step closer to Debbi moving in.
All this does make me think I should re-do the rest of my closets sometime soon, though...