A Visit From Mom
This past week has been both a much-needed vacation, and a long-awaited visit from my Mom. My mother retired last year, which I think was the last barrier to finally getting her out here. To my surprise, she'd never visited the Bay Area before, so I got to give her the grand tour - or at least as much of the ground tour as can be crammed into one week without driving ourselves crazy!

She arrived on Thursday, and her flight was smooth (other than - she said - an awful sandwich provided on the plane), her luggage showed up without difficulty, and the drive to and from the airport was simple enough (as it usually it around lunchtime).
I didn't quite get all the cleaning done I'd wanted to get done, since as I was doing some laundry we had a little cat incident: Blackjack jumped up onto the dryer and stuck his head into the washer - just as I was pouring soap into the washer! So we got to spend 20 minutes of "quality time" in the bathroom as I first wiped his head clean, then rinsed him off, then dried him off again. Fortunately, it didn't get in his eyes or ears, so he was more panicked than anything else. He did have a mild skin reaction to the soap, as it dried out and flaked off, but that seems to be the worst of it. The little dummy!
Mom came home and met all four cats, as following the Labor Day holiday Debbi decided to leave them at my place for the week. (We also figured Roulette would warm up to Mom more at my place than at brief visits to her apartment.) She also got the tour of my house, including my patio and yard, and we started getting her set up in my spare bedroom (a.k.a. my study).
For lunch we headed into downtown Mountain View, and had lunch at the Gyro's House. Then we walked around downtown for a bit, to see the sights. But mostly we had a mellow day on Thursday. I grabbed take-out pizza from Amici's for dinner. As with myself, Mom liked the smaller pepperonis that Amici's uses.

Friday we drove over to Half Moon Bay on the coast, this introducing her to both the Bay Area hills and its microclimates, as it was sunny in Mountain View but overcast on the coast.
Debbi and I lately have been enjoying the occasional brunch at the Main Street Grill in downtown Half Moon Bay, which is a nifty diner which plays classic jazz music (to which the owner occasionally sings along while he cooks). So we had brunch there, and then walked up and down Main Street, including a look in the Feed and Fuel at the animals ("the best place to pick up chicks!") and trinkets.
Then we drove to two different beaches, first to the Fitzgerald Marine Wildlife Reserve in Moss Beach, and then a stop at one of the beaches in Half Moon Bay itself. Aside from standing and watching the turbulent Pacific coast, we also saw hundreds - maybe thousands - of resting seagulls along the beach. Not sure what they were doing - not nesting, it seemed - but there they were!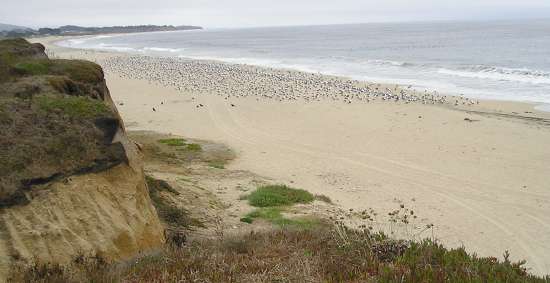 After the beaches I drove us up in to the hills and along Skyline Drive between Half Moon Bay Drive (Route 92) and Page Mill Drive. The clouds were thick, rolling over the hills, and visibility was not great, which was a bummer since it meant no panoramic views of the Valley from 2200 feet. We did stop and walk around Alpine Pond at Skyline Ridge, and took some photos of the clouds. It was chilly and windy, though!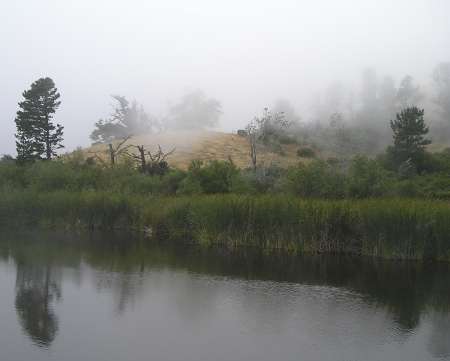 Finally, we drove down to sea level (my friend Lucy has termed driving from one microclimate to another "driving into summer") and stopped at Stanford University to see the front of the campus. I've always thought Stanford's front facade is rather strange, with its orange-stone decor, huge courtyard, and prominent church. It feels like some frozen piece of history rather than a functioning campus. The rest of the campus seems somewhat more normal, but somehow nothing at Stanford quite feels real to me. Berkeley's campus always seems more genuine to me, somehow.
We made a short stop at Know Knew Books (one of my three favorite used bookstores in the area - we'll hit the other two later on), and then went home to meet Debbi. We decided on Su Hong for dinner, and dessert at Cafe Borrone, as well as a glimpse of the now-closed Kepler's Books, which made us all sad. (There does seem to be some hope that Kepler's will re-open, though.)
A pretty full day, and we were just getting warmed up! Debbi joined us for all of our weekend adventures.

Unlike my Dad, who is more of a morning person than me and who's generally eager to get going and do things in the morning, Mom and I tended to have leisurely morning where she'd read and have coffee, and I'd get up, and we'd read the paper, and then we'd finally get going. Saturday was no exception, as we got a late start for our adventures up north, and stopped in Burlingame for lunch at Brothers Deli.
Then it was off through the city and over the bridge to visit Muir Woods, which I think Mom was as taken with as Dad was three years ago. The redwoods are awfully impressive, and we stopped in their gift store - which I don't think I've ever been in before - and picked up several trinkets and postcards.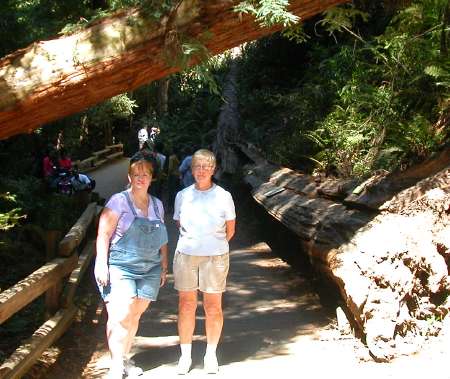 Then we drove down to the city and parked by the East Battery, then walked over to the Golden Gate Bridge. It was sunny but windy and chilly, so we only went to the first pylon, but the view was good.
From there we drove over to and down the famous Lombard Street (the "crookedest street"), and then stopped at Coit Tower, which we went to the top of. In this part of the city it was nice and sunny, so we got some nice pictures.
We wrapped up our day in San Francisco with a trip to get ice cream at Ghirardelli Square, a stop at Pier 39 to see the sea lions, and a drive to Treasure Island to see the city skyline at night. All-in-all a very successful trip! We got a lot more in than I'd thought we would.

Sunday we did the Mountain View Art and Wine Festival, which is pretty much the largest of the season. Mom even bought something! And I picked up some new air plants for my stairwell. (Must remember to water them more regularly this time! Gah!)
We left mid-afternoon and drove over to Sunol to go to the Westover Winery, which is the one winery whose wine club Debbi and I have actually joined. They have good wine, friendly (and funny) people, and lots of port. Mom had wanted to see the wine country tasting scene, so we figured this would be a good chance. Plus, as members, we all get free tastings. (Though we came away with something like eight bottles of wine, too!) So that was another good trip, and we didn't even get too sozzled!
We wrapped up the day with dinner at Don Giovanni, one of my favoritest Italian restaurants. A good way to go home really stuffed. This might have been when we dropped in on Bookbuyers, too, but I don't recall for sure.
I should mention that all the cats except maybe Jefferson really warmed up to Mom. Both Blackjack and Roulette came in and visit her at night - perhaps lured by the fact that she's my first house-guest who didn't shut them out of her room at night. (Both my Dad and Karen are allergic, and my other guests I think just didn't want to be disturbed at night.) So this was entertaining to all of us, and Debbi ended up leaving the kittens at my place for another week so Mom could continue to enjoy them!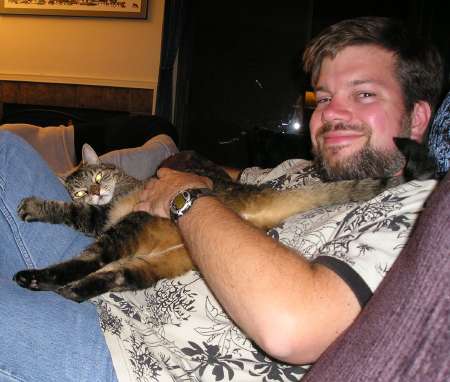 Monday we managed to squeeze in lunch at Lori's Diner near Union Square in San Francisco, and then caught the F-line streetcar down to Fisherman's Wharf to catch the boat to visit Alcatraz.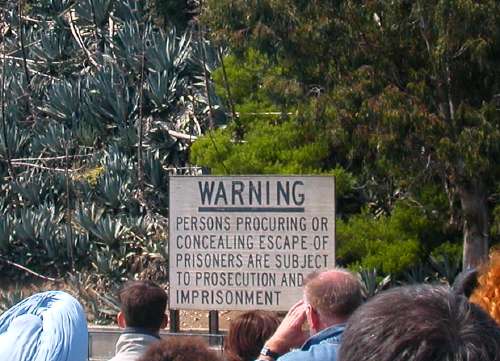 I've now been to The Rock twice, once with each of my parents, and we all agree that the trip is totally worth it. It's very well-presented, and it really takes you back to this strange place in bygone days, and helps explain why Hollywood has such a fascination with prison movies. It takes about 2-1/2 hours for the basic tour and looking around the island, but you can extend your stay if you want. (Unlike years past, the custodians of Alcatraz today want you to leave the island at the end of the day, though.)
We came back mid-afternoon, and walked around Pier 39 to look for a sweatshirt for Mom (we didn't find one she liked), and I bought some chocolate cordials, for which I have a particular weakness. (Although the raspberry liqueur ones were mediocre; I won't get them again.) We also got a good look at the sea lions during the day. Then it was back to get coffee and sit in Union Square for a bit before returning to the car.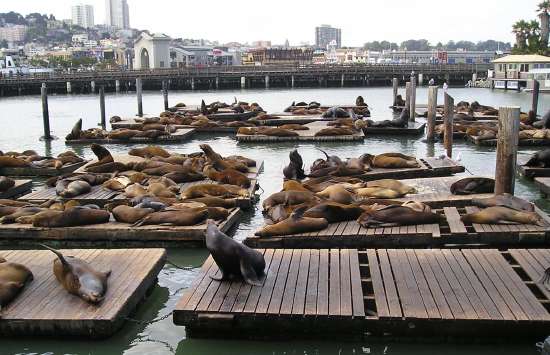 It was getting late by this time, so I took Mom on a short tour of the rest of the city, once again somehow managing to get from Fifth-and-Misson to Golden Gate Park, and we drove through the north end, which I rarely drive through, passing several lakes, ponds, and even a waterfall which I didn't know exist, as well as the Bison pen (which I did). We ended up at the ocean, where it was completely overcast and rather dark.
I drove up to Point Lobos where we visited the USS San Francisco Memorial, where part of the flag bridge of this ship - damaged at the Battle of Guadalcanal during World War II - is displayed. Point Lobos also has stunning views of the golden gate itself and of the Pacific Ocean, but I've always taken time to see this memorial as well whenever I've gone. Mom was also quite impressed (as one should be, when presented with hundreds of pounds of solid metal with 60-year-old artillery holes in it). I remarked that people talk about sending soldiers overseas to defend our nation and its freedoms, but to me it's not even in the same ballpark as this.
Anyway.
After driving along the Great Highway by Ocean Beach, we met Debbi at her apartment and had dinner at Armadillo Willy's, our staple BBQ joint in the area, which went over well. A very satisfying - and full - day.

By Tuesday, we'd hit all the main places we wanted to get to, so we were able to spend the day moving at a more leisurely pace. Mom wanted to window shop in Palo Alto, so we went there and had lunch at the Palo Alto Creamery and walked around for a bit.
Then we drove into the valley, where we went by my old apartment in Campbell, and then visited the Winchester Mystery House, which was also a big hit. Although Mom observed that the way the house is presented is rather backwards: You park on the side, go in through a side entrance, do the tour, and then as your last thing you visit the lovely gardens at the front of the house. I agree that it's rather peculiar. It's still a great place to visit, though, despite the rather steep admission fares.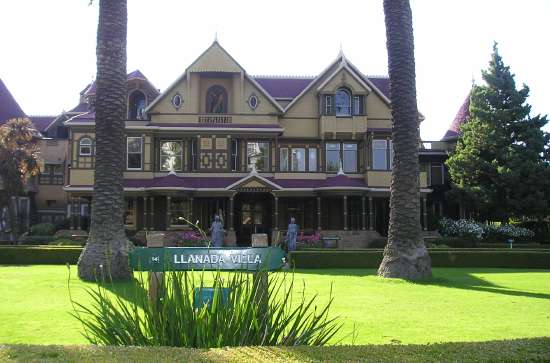 We wrapped up the day with a visit to our third used bookstore of the week, Recycle Books, and a nice dinner at Amarin Thai.

And on Wednesday, it was time for Mom to leave. The week went by so fast! We had breakfast at Tom's Depot in Los Altos, one of the better undiscovered diners around. If I haven't mentioned it before, it has some photos and information about the Los Gatos-San Francisco rail line, which one ran up where Foothill Expressway is today, right past the depot (hence its name). Mom said that the french toast was maybe the best she'd ever had, which surprised me - it is awfully good, though!
And then the drive up to the airport to drop her off. Very sad. But we had a great time, and hopefully she'll come back to visit again before too long.

There were a few things I'd hoped to get to which we just didn't have time for: We never walked into the back of my complex. We never went to Shoreline Park. Or to Twin Peaks in SF, or to ride a cable car. Next time!
I always feel a little self-conscious writing a big entry which goes into such meticulous detail about a vacation like this. But it does serve some useful purposes:
I do sometimes come back to these entries to see what I did during a vacation.
The links I provide might be useful for someone (and in a few cases might help improve a good page's spot in search engines).
And heck, maybe I'll give a few people some ideas for what to do on their Bay Area vacation.
But truly, it was a great visit. I'm finishing this entry about a week later - it's taken quite a while to pull together. I can't believe it's already been a week (well, nearly) since Mom left. Where does the time go?

(P.S.: For the entries of my Dad's two visits, see here and here.)