Kitty-cats!
Let's have a big welcome for Debbi's two new roommates, Blackjack: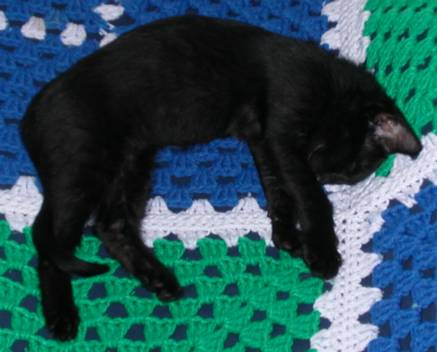 ...and Roulette: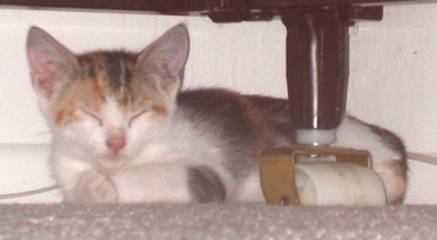 We picked them up on Sunday. They're about 3 months old. They're not actually brother-and-sister (Blackjack is a little older, I think) but they're related somehow. They might actually be aunt and nephew. Their parents I think were feral, and they were rescued by a cow-orker of Debbi's friend Lisa.
When we picked them up, Blackjack was completely gorked out, while Roulette was up and playing like crazy. Debbi says Blackjack mewed the whole way home (we took separate cars). When we got to her place, Blackjack came out of the carrier and promptly went under the bed and zonked out again. Roulette, meanwhile, refused to come out, but was happy to be petted.
We left them alone in her bedroom for a while, and when we went back in Roulette was under the bed (where she'd stay for the rest of the day), while Blackjack had come out and was snoozing on top of a blanket. Blackjack then woke up and we discovered that he loves to play, and he was not one bit suspicious of us.
He played with us for an hour or two, and then he gorked out on Debbi's bed, which is where the photo above was taken.
I haven't been up to see them since Sunday, but I've gotten regular updates. It sounds like Roulette has come out and is settling in nicely. They play together all the time, with Blackjack pouncing on Rou quite a bit. Blackjack frequently seeks out Debbi to play, and they play at night, often on the bed. They both retreat to the bedroom as their safe spot. Chasing string is their favorite game.
Friday they come down to spend the weekend here. We'll introduce them to my cats gradually over the weekend, leaving them in my study for at least the first night. My cats have had positive reactions to other cats in the past, so I'm hoping it will all work out.
My prediction is that Blackjack and Newton spend most of Sunday chasing each other around the house. They are two wound-up little kitties!

In other news, I'm sorry to report the obituary of the 2003 Chicago Cubs, who added to their legacy of futility by losing the last three games of the NL Championship Series to the Marlins. While many fans will doubtless point to a fan's obstruction of a play in Game 6 as the reason the Cubs lost, the fact is they also lost games 5 and 7, and the fact is that that one incident isn't responsible for the Marlins scoring eight runs in the inning. At some point the Cubs needed to just get someone else out, but instead they imploded.
I am actually kind of happy to see the Marlins win. They're stocked with young players, who I always like to see succeed, and they managed a terrific turnaround by becoming a juggernaut in the latter part of the season after starting woefully - so woefully that their manager was fired and replaced by Jack McKeon, who seems like a genuinely good guy and certainly seems to have earned his trip to the big stage.
I was a little prejudiced against the Cubs since they had the worst regular-season record of the 8 playoff qualifiers. They would not have been the worst team to win a World Series, but there aren't many behind them, if you measure by regular-season wins.
Meanwhile, my Red Sox forced a Game 7 in the ALCS today by finally pounding someone else's pitching staff - the hated Yankees', in this case. Tomorrow Pedro Martinez has to beat Roger Clemens in New York. A tall order. A Red Sox/Marlins World Series would be fun to watch. Yankees/Marlins? Not so much.
In any event, unless the World Series sucks, this has been the most exciting postseason in years. Since 1991 for sure. Maybe even since 1986. Heck, if the Red Sox actually win it all, make that 1975.
Or 1918.